Gorillas in the Mist - 9 Days - Rwanda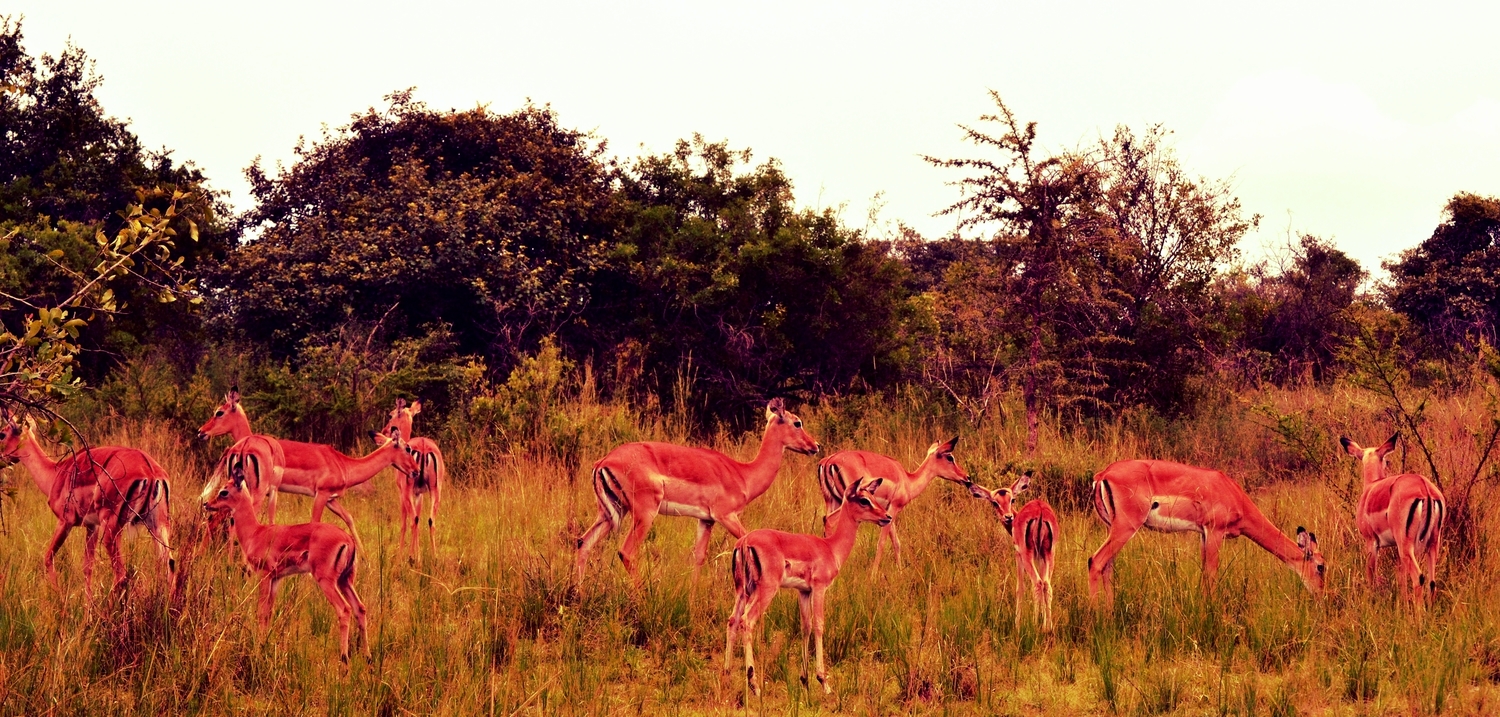 Detailed itinerary
Day 1 – Arrival and city tour in Kigali
Upon arrival in Kigali International Airport, your Instinct Safaris tour guide and driver will pick you up and welcome you to the "Land of a thousand hills" - Rwanda. After transport to the city center, we will check in at Flame Tree Village Nyarutarama (Budget) or Lemigo Hotel (Medium). Later that day, we are planning to visit Gisozi memorial site, sharing a dark chapter in Rwanda's past. We will explore Rwanda's capital city, the country's main administrative and economic center. Surrounded by lush hills of green, modern Kigali is the cleanest and safest city in the region. On your city visit, we intend to visit local craft shops and local markets.
Day 2 – Transfer to Akagera National Park and sunset boat cruise
In the morning of the second day and after breakfast, we make ourselves ready to leave Kigali and travel to Akagera National Park. Located in Eastern Rwanda, this national park shares the rolling, grassy hills of the big neighbor Tanzania in refreshing contrast to the forested volcanoes in the Virunga massif in northern Rwanda and the tropical forested Nyungwe in southern Rwanda. The park boasts of a range of large wildlife unmatched by any other Rwandan wildlife reserve. The recently re-introduced lions make Akagera a perfect getaway off the beaten trail. Akagera has a great selection of endemic savannah bird species. Numerous land and aquatic wildlife species, such as hippos, baboons, giraffes, antelopes, zebras, warthogs, and elephants can be observed in their natural habitat. The drive to Akagera from Kigali only takes roughly two to three hours. Therefore, after arrival and checking in at Akagera Game Lodge (Budget) or Umbrella Pine (Medium) or Dereva Hotel (Luxury) and lunch at our lodge, there will be time for a guided forest nature walk in the area or an evening game drive inside the forest.
Day 3 – Whole day wildlife viewing in Akagera National Park
After breakfast, treat yourself with an early morning game drive in the park, rewarding yourself with views of wildlife such as elephants, impala, black-tailed mongoose, hippos, oribi, bushbuck, antelope, zebra, eland, giraffe, Cape buffalo, and primates, including olive baboon, vervet monkey, and bush baby. We will return to the lodge for lunch and a shower. For the next session in the afternoon, we will opt for a boat trip to Nyirabiyoro island, famous for marine wildlife and birding. This trip will reward you with views of hippos, crocodiles, and water birds such as papyrus Gonolek, shoebill stork, and African fish eagle. Nyirabiyoro is situated in lake Ihema, Akagera's largest body of water.
Day 4 – Transfer to Nyungwe Forest and Butare King's Palace
After breakfast and packing, we will be ready for a drive to Nyungwe Forest National Park in Rwanda's south. En-route, we will have a unique chance to stop at various locations. Roadside markets and shops make for exceptional memories, as we continue south. We will take a break at Gikongoro Genocide Memorial Site in Murambi provice and visit Nyanza palace. At Nyanza palace, we will be able to witness pre-colonial culture. After lunch in Butare, Rwanda's second largest city with a population of only 77'000, we will continue our drive and arrive Nyungwe Forest National Park in the late afternoon. Dinner and accommodation at Gisakura Guest House (Budget) or Nyungwe Top View Hotel (Medium) or Nyungwe Forest Lodge (Luxury).
Day 5 – Chimpanzee tracking and nature walk in Nyungwe Forest
On the fifth day, we will have an early breakfast in order to visit the chimpanzees in Nyungwe's dense canopies at 6:00 AM. After reaching Nyungwe Forest National Park head offices and a short briefing, we will be guided to enter the tropical forest. We will return to our lodge for lunch, but will be back in the forest in the afternoon for more primate encounters. Expect to get close to Angolan colobus monkey, black and white colobus monkey, and others. Nyungwe Forest National Park is home to a total of 13 primate species, including chimpanzees, Rwenzori colobus monkey, L'Hoehst monkey, silver monkey, owl faced monkey, red taied monkey, vervet monkey, olive baboon, and several others more. Accommodation at Gisakura Guest House (Budget) or Nyungwe Top View Hotel (Medium) or Nyungwe Forest Lodge (Luxury).
Day 6 – Canopy adventure hike and transfer to Lake Kivu
Join a canopy walk adventure amidst the tree tops in Nyungew Forest National Park on the sixth day of our journey. Beautiful sights and sounds of different bird species, such as the Rwenzori turaco and Hornbill create a unique atmosphere. In the afternoon, we plan to leave Nyungwe forest and head to the shores of Lake Kivu in Rubavu district. Lake Kivu is the biggest fresh water lake in Rwanda and presents spectacular sights of the albertine rift valley, where many endangered animal species reside. Dinner and accommodation at Stipp Hotel (Budget) or Paradise Malahide Hotel (Medium) or Lake Kivu Serena Hotel (Luxury).
Day 7 – Transfer to Volcanoes National Park
We visit Nyamirundi island and the surrounding neighborhood in the early morning of day seven. On the island, we will have a chance to learn about the local coffee making process. Coffee beans are roasted locally and we would love to share a hot cup of coffee with you after lunch! Nyamirundi island offers breathtaking sights of terrace farms on the one hand, and the majestic volcanic chains in Dr Congo on the other. In the afternoon, we will depart to Kinigi in northern Rwanda. Driving through a meandering road will allow a glance at the lush green forests while getting closer to Volcanoes National Park. Dinner and accommodation at Muhabura Hotel (Budget) or Mountain Gorilla View Lodge (Medium) or Virunga Lodge (Luxury).
Day 8 – Mountain gorilla tracking in Volcanoes National Park
After breakfast at the hotel and equipped with packed lunch, we will drive to the park head offices and visitor reception center. After registration you will assemble for the activity's general briefing held by your game ranger and guide of the day. This is a standard precaution to protect the health of the mountain gorillas and the visitors while conserving for generations. You will be divided into groups of eight hikers depending on your level of fitness and available clients that day. Afterwards, you will drive to the head trail of your gorilla group and the trek will begin. The tracking portion of your gorilla experience can last from minutes to six hours or a whole day of hiking through bamboo trees. The length of your trek depends on how far into the forest your gorilla group has moved since the last day when rangers last found them. Once you meet the gorillas, one hour is allowed with the gentle giants. In the afternoon after your return, we will have an optional tour of Lake Burera and Ruhondo, which both are located within the vicinity of Volcanoes National Park. Dinner and accommodation at at Muhabura Hotel (Budget) or Mountain Gorilla View Lodge (Medium) or Virunga Lodge (Luxury).
Day 9 - Golden monkey tracking, return to Kigali, and departure
In the morning of the last day, we will drive to the park headquarters and attend briefing for another group of Volcanoes National Park's inhabitants: the golden monkeys. Tracking the endemic golden monkeys in their natural habitat in the bamboo forested regions of the park offers another opportunity to visit the rain forest once more. This species of blue monkey only lives in forests at high altitudes and cannot be seen anywhere else. In the afternoon, we will leave the national park and head to Kigali International Airport for your connecting flight. Your safari ends with your successful check in at the airport.
Are you ready for your adventure?
What is included?
VAT is included in the tour price - emergency air ambulance evacuation is included in your trip with us through a gold cover from AMREF Flying Doctors (www.flydoc.org) valid in Uganda and Rwanda. DR Congo is not yet part of the service and no emergency air ambulance is provided - your Instinct Safaris guide and driver are included in your safari itinerary - your half or full board accommodation in the specified lodges, hotels, and camps is included on a shared room basis - your secure transport is ensured by traveling in a fully safari-customized Land Rover Defender or Toyota Land Cruiser - all other transportation included in your travel plan is on us - soft drinks, water, and endemic fruits are included in your safari. We support the local community by buying as much produce as possible from them rather than from large chains - park entrance fees to Akagera National Park, Nyungwe Forest National Park, and Volcanoes National Park are included in your trip - your game drives and boat cruise in Akagera National Park are included - Your guided nature walk in Akagera National Park is included in your itinerary - your Nyungwe canopy adventure is included (US $90 value) - your chimpanzee tracking permit in Nyungwe forest is included (US $90 value) - your mountain gorilla tracking permit in Volcanoes National Park is included (US $750 value) - your golden monkey tracking experience is included in the tour price (US $150 value) - a city tour in Kigali, including Gisozi Memorial Site, is included - your Instinct Safaris Foundation fee is included in the tour, supporting local vocational, health, and educational projects.
What is excluded?
International flights to and from Kigali are excluded - any additional travel health insurance is not part of your safari price - all sorts of expenses of personal nature - souvenirs, drinks, laundry, and additional equipment - are not included - activities not stated in the itinerary are excluded - gratuities and tips to rangers, driver, guide, porter, lodge staff, or others, are not included - visa fees to Uganda, Rwanda, and DR Congo (where applicable) are not included - Instinct Safaris is not to be held responsible for the loss or damage taken to any object or piece of equipment taken in the wild.